Welcome to Wice, the CRM of a different kind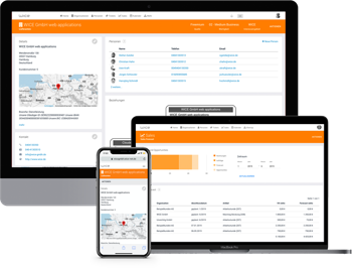 In marketing, sales, or service and support, you need the right tools to achieve your company's growth goals. Wice CRM offers you everything that helps in customer acquisition and service. You do not need to download or install any software.
Finding Customers
Marketing campaigns with newsletter or serial letter, you always reach the right target group. With Wice CRM you will be more successful in marketing.
Be more successful in marketing with Wice CRM.
Gaining Customers
From the sales opportunity to the quotation to the invoice. Wice CRM makes your sales more profitable.
Be more profitable in sales with Wice CRM.
Retain customers
Optimal service processes ensure greater customer satisfaction. With Wice CRM, your service & support becomes more effective.
Be more effective in service and support with Wice CRM.
Step by step help to get started
We help you get started with CRM. The Wice team is at your side with advice and support during the implementation.
---