Telephone Integration with Placetel
Your phone rings and you immediately know who it is and have direct access to the customer file. Your customer notices that you really know him well and immediately feels better taken care of. With Wice CRM this wish becomes reality!
CRM telephone system integration (CTI) simplifies Wice CRM by cooperating with Placetel's cloud telephone systems. Customer service becomes more effective and employees save valuable time. Thanks to modern VoIP integration, even mobile telephone scenarios or the integration of home offices are possible as a result.
Configure the Placetel Plugin
The Placetel plugin connects Wice CRM with Placetel Cloud Telephony. The integration works directly from telephony to Wice server. You can get the plugin in the admin area via the order in the item "New plugins".
First you have to enter the Placetel API key. You can get this key from the Placetel administration. You enter this key in the plugin under Actions->Settings.

Configure the accounts
In order for the phone integration to signal incoming calls to the correct Wice user and set up outgoing calls, the individual Placetel accounts must be linked to the correct Wice user.
To do this, select "New Placetel account" in the plugin under Actions->Accounts.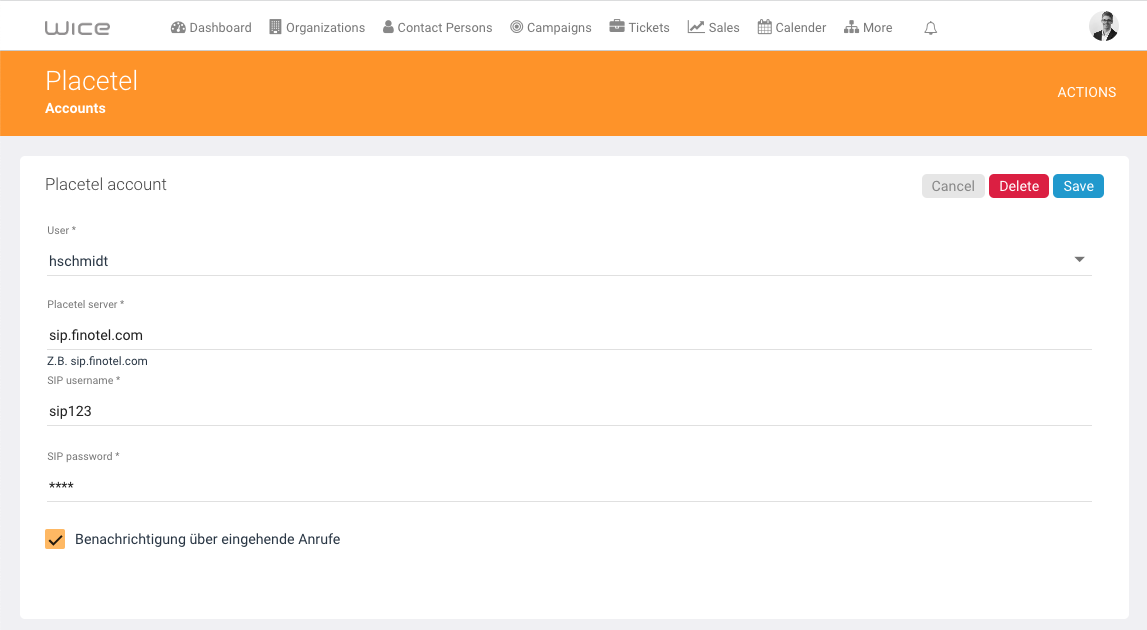 Enter the correct account data here and link this account to the desired Wice user.
Press Save and the account is now linked to the user. Own calls are then displayed as a screen pop and for outgoing calls it is sufficient to click on the desired phone number in Wice CRM.
Overview of the telephone calls
The Placetel plugin also gives you an overview of the phone calls made. To do this, simply click on the plugin. You will then immediately see the overview

---